SDG7
Botanical Garden & Sustainability Centre Completed for UNovember!
Two years ago we asked for our community's Big Ideas that would help change the world, and two projects were launched which have captured the imagination of our community to become flagship campus projects!
Both were made possible by our community – first with the ideas and then with the financial generosity and expert help from our families, faculty and staff to make them a reality through philanthropic support.
Botanical Garden & Sustainability Centre – A passion to green the campus has been developed by our Taskforce hand in hand with the Sustainability Committee to become a major campus landmark which will also provide a focus for Climate Action.
Solar Campus Project – Thanks to our community we are well on our way to becoming the first solar powered school in Vietnam – the dream shared by our students two years ago!
At the end of last year we had fundraised enough to start implementing both projects with more than $120,000 in gifts to our UNIS Impact Fund from our families, faculty and staff. Thank you!
And this summer we started work on both projects which is now being completed.
Today we update you on the Botanical Garden which will be realised in two phases. The first focuses on our Green Learning Zone and Sustainability Centre where our students and community will be able to get hands-on with gardening, booking space for projects with our community allotment-style raised beds. They will also be able to learn about waste management and circular economy with our recycling and compost centre. We will be announcing some exciting news on this in UNovember.
Below you can see both the 'artists impression' from the design plans and photos from this week on campus.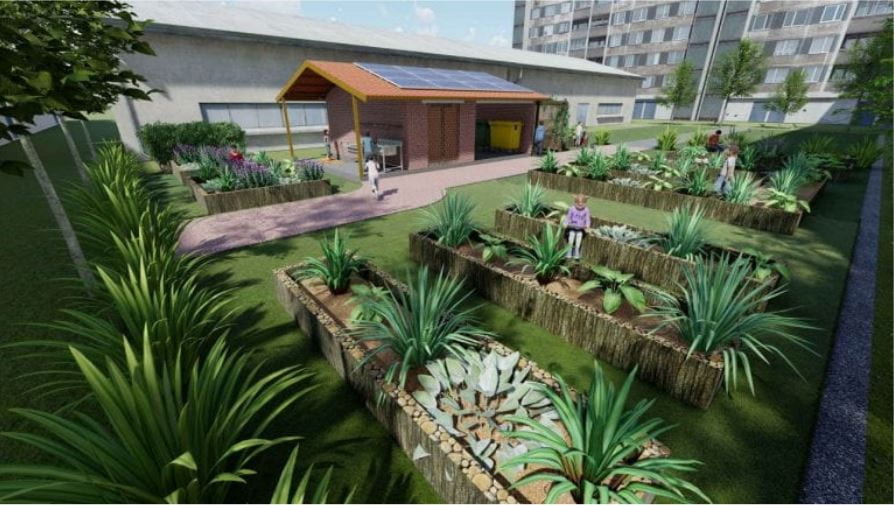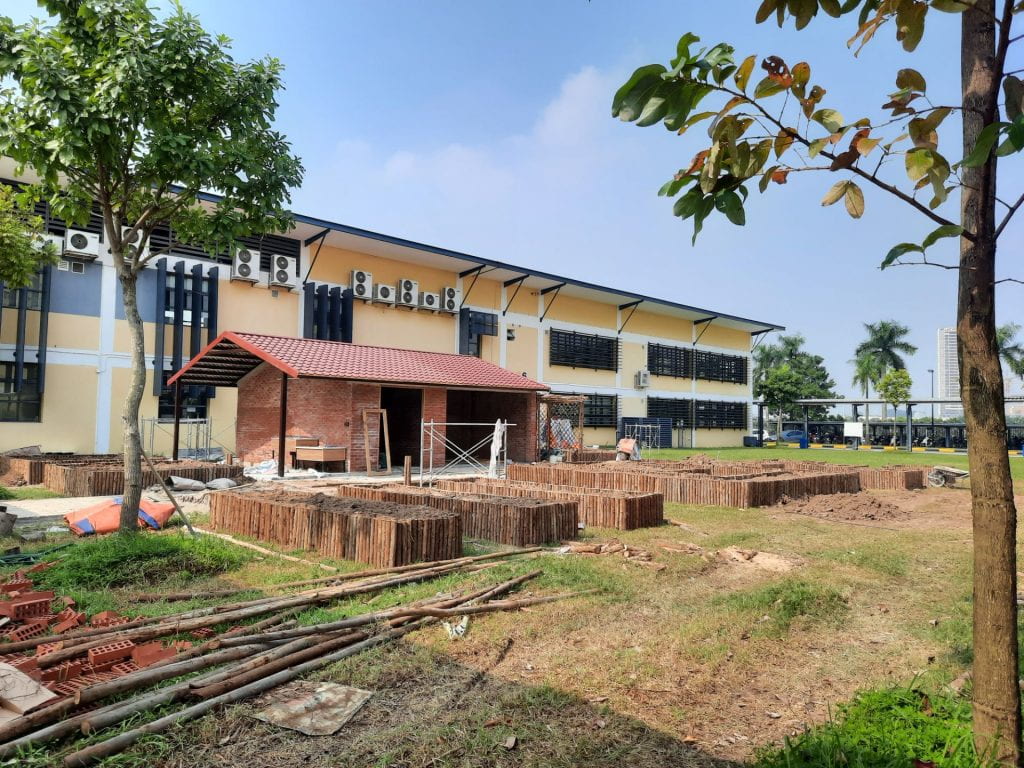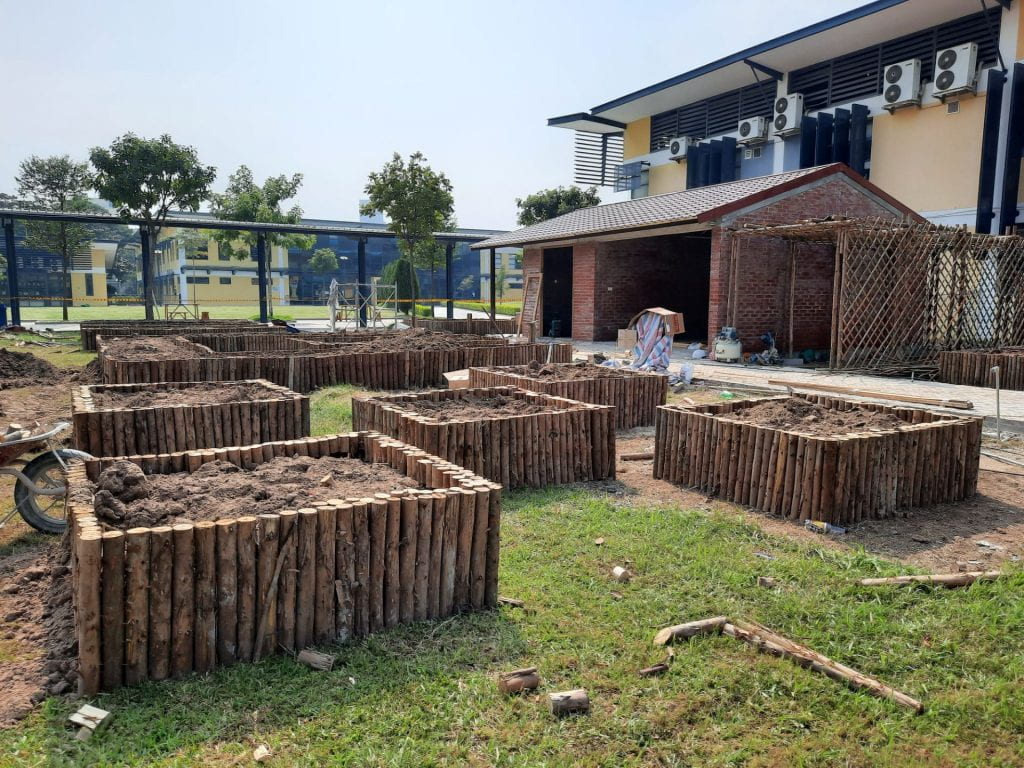 In the second phase of this project, the other half of the space will become our Garden of Philanthropy, an ornamental garden designed for learning, celebrating Vietnam's incredible variety of indigenous plants and creating a beautiful, calm corner of the campus for peaceful reflection, study and socialising. It will also be a place to recognise the incredible generosity of a community that has now donated more than a million dollars to the school's philanthropic projects for service and scholarships.
The draft designs will be completed with the Botanical Garden Taskforce in UNovember and implemented in time for Spring.
Extending Rainwater's Life Cycle at UNIS Hanoi
Have you ever wonder why the water in toilets in building 8b is dirty? It's not dirty water, it's rainwater!
Have you ever noticed you're walking on a rainwater collection system when you enter the Canteen? Rainwater is collected from the roof of the building and flows through a drainage system into this 40 m3 rainwater collection tank. The water then feeds through a pump system into all the toilets and urinals throughout building 8b. Harvesting and using rainwater reduces our use of processed water services and naturally recycles rainwater. Every 40 m3 tank of rain water we collect provides over 88,000 B8b toilet flushes, that's a lot of processed water saved!
Do you practice water saving at home? Here are some simple tips:
1. Turn off the tap while brushing your teeth.
2. Turn off the tap while washing your hands.
3. If it's yellow, let it mellow. This tip might not be for everyone, but the toilet is one of the most water-intensive fixtures in the house. Do you need to flush every time?
4. Fix your leaks. Fixing leaky faucets can mean big water savings.
5. Shower Bucket. Instead of letting the water pour down the drain, stick a bucket under the faucet while you wait for your shower water to heat up. You can use the water for flushing the toilet or watering your plants.
Charging Your Device With Renewable Energy
Are you using the beautiful summer sunshine and breeze to charge your phone on campus? Did you know that the wind turbine and solar panels on the roof of Building B8b power the USB sockets in the Canteen and classroom B8b-106 (on the roof)?
There are nine outlets with 18 USB sockets which anyone can use to charge phones or other devices. Both the wind turbine and the solar panels generate electricity which is stored in a battery connected to the USB outlets. Each of the systems, turbine for wind and solar panels for sun, can produce around 1,000 watts of electricity. That's enough electricity to power the average smart phone for one year!
Use renewable energy to charge your phone or other devices with a USB charger next time you are in B8b!