SDG4
Inclusion on the Court
Third place at the APAC Basketball Tournament was not the only win the boy's varsity basketball team had this past weekend. One of their biggest wins this year may have gone unnoticed by most of the crowd cheering at the basketball tournament this weekend. Not only has the basketball team won games, but they have also shown what being an inclusive school really looks like. When the crowd was cheering on the UNIS basketball team, they were also cheering for inclusion!
The UNIS boy's varsity basketball team was coached by teachers Cody Taggart and Matthew Foss. They have been working hard to coach the team and prepare them for the upcoming season, but the coaches also included a 12th-grade student who is a huge fan of sports. The new assistant coach this season was Minh, a 12th-grade student at UNIS who is proudly neurodivergent. Minh shared, "Being neurodivergent means that my brain works a little differently but it's important to remember that everyone's brains are different and they are all beautiful."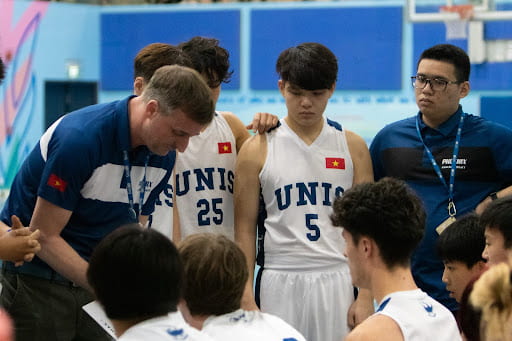 Minh's coaching responsibilities included organising the game stats, preparing materials for practice, assisting the coaches at the games, and cheering on the team for the whole season. Minh reported, "Being a sports fan, I love getting to be the assistant coach for the whole basketball team. I am so excited to have help from the coaches and team to help me with the new job of assistant coach!"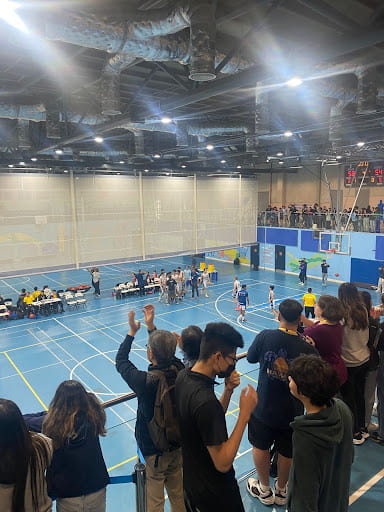 Minh has learned a lot of valuable skills in leadership and communication while serving as the assistant boy's varsity coach. The team has also learned the importance of diversity and inclusion. After the tournament, the coaches and team members decided to share a medal from the tournament with Minh. Rahul, a grade 11 student shared, "When the team surprised Minh with the medal from the tournament, Minh's smile was so bright it lit up the whole room. The whole team was so happy and excited for him. We wanted to thank him for all his hard work."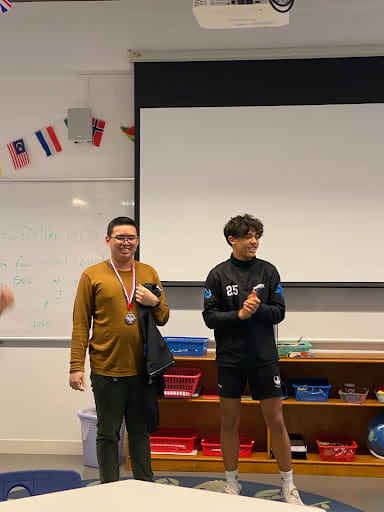 Minh has shared, "Inclusion for me is to include everyone to be a part of the team even when we are on and off the court." Thank you, Mr Taggart and Mr Foss for inspiring students and leading the way to become a more inclusive school!
Grade 7 Students Produce Toys to Help Others
Last May, when Grade 7 students heard they had the opportunity to create practical educational toys for children less fortunate than themselves, they jumped at the chance to get to work! As part of their Design classes, UNIS Hanoi students designed and manufactured a range of toys for children attending The School for Visually Impaired Children and for children relying on the Blue Dragon Toy Library.
Following an online meeting with the two beneficiary organisations, the students settled on producing robust, colourful creations that took into consideration age, ability and durability.
When asked what their inspiration for creating a braille chess set for visually impaired children was, one UNIS Hanoi student said, "I like playing chess and I wanted to help children who were visually impaired be able to play too. In Design, we had to think about how to change the chess pieces so that a blind person would identify the pieces correctly, so we added braille to the pieces and made one side circles and the other side squares. We also made different layers in the board so you can tell if you're on a black or white square based on the elevation of the piece."
The School for Visually Impaired Children and the Blue Dragon Toy Library were both delighted when UNIS Hanoi reached out to them this week to show the range of toys our students designed.
Kim Miller from Blue Dragon said,"In the remote mountains of Northern Vietnam, Blue Dragon runs a toy library. It's designed to help mothers (especially very young mothers from ethnic minority communities who can be married as young as 13) learn how to play with their children. These are children who often just play in the dirt or with rubbish they find on the road or around their house. The toys, especially the trucks and musical instruments would be especially useful and well loved. Our social workers take them to the villages and work with the mothers and their children as they develop a bond. The other games could also be used in the Blue Dragon Drop In Centre or shelters.
Trịnh Thị Thu Thanh from the School for the Visually Impaired also expressed her sincere thanks to UNIS Hanoi students. She added, "Based on the needs of children in the Play n Learn group, I have made a list of toys including some toys from your catalogue and some extra toys which I think UNIS Hanoi can make in the future."
Vulnerable Children Able to Learn Online Thanks to our Donation
Children at Blossom House and Blue Dragon are enjoying new distance learning experiences thanks to UNIS Hanoi's recent donation of 31 iPads and headphones.
It has been a month since the 2021-2022 school year started virtually for local schools in Vietnam and it hasn't been an easy start especially for children from vulnerable backgrounds. With limited resources, these students could only access their online lessons via their parent's phone or even had to skip classes because their family could not afford a device from which they can use for learning.
As a School that values Community and Responsibility, UNIS Hanoi has worked with our Service Learning partners Blue Dragon and Blossom House to support their children during this difficult time. On September 22, the Tech Office helped to deliver the devices to the two organisations.
A nine year old boy from Blue Dragon was excited with his iPad. He said, "My Mum doesn't have a smartphone so I could not join online classes. Now, I can! Thank you very much for your help!"
Holiday Book Swap

To help Middle School students get ready for a relaxing Winter break, on December 18 during lunch time, the MS Sustainability Club and Library hosted a Book Swap where students were able to bring in their books from home to exchange with other students!
The event was a great success with over 40 students representing all MS grades coming to enjoy some hot cocoa and sweets before selecting a gently used book to enjoy over break.
Everyone left with a great book (or books) to cozy up and read over the two week break with a cup of tea/hot cocoa (we even had tea bags & chocolate for students to take home with their new book). Students were happy to see other students fall in love with the books they brought, and the Sustainability Club was thrilled to bring so many people together in supporting sustainable consumption & production, as well as take care of our community's well-being!!
Students Give Online Music Lessons to Blossom House Girls
When vulnerable girls from Blossom House weren't able to come to UNIS Hanoi's campus for their music lessons this year, our students came up with a novel solution – take the classes and the love of music online!
Since last week, the students who are part of a service learning group called Bamboo Music School, have created three types of videos: introduction to an instrument, playing the instrument, really jamming out on the instrument. And they are all available on Youtube.
Before campus closures happened, High School students were providing weekly music lessons to the girls. Knowing the impact it was making to the lives of their new friends, the students vowed to find a way to keep the connection with the Blossom House girls going.
Bamboo Music Service group reached a larger audience this week, by sharing these music videos with UNIS teachers so that teachers can share and discuss with their home base groups in elementary, middle and high school. The group hopes to share their love of music and raise awareness of the needs of The Blossom House.
As part of this outreach, The Bamboo Music School made an appeal to source a 300 litre refrigerator for the Blossom House. Within a day, our group leader, Miyuki, Grade 10, worked with the Service Learning office to organize funds raised by service groups so that a refrigerator could be purchased. This will help keep food fresh at Blossom House during the summer months.
SANSE – Creating Change in Ban Lien, Lao Cai
SANSE is a student-led service group founded by UNIS Hanoi alumni, in hopes of creating a change within the local community of Ban Lien, Lao Cai. We have been fundraising and providing scholarships for local students to finish their high school education.
On January 16, 2020, SANSE set out on our first ever trip to Ban Lien, Lao Cai. Below is a recap from a member of our group:
After numerous weeks of preparation and 6 long hours on a bus, the SANSE service team arrived in Bắc Hà District. We had a nice warm dinner and headed back to the hotel eager for the Ban Lien the next day. We got up bright and early and sat through a bumpy one hour long bus trip, we arrived at the Ban Lien school safely, and met the principle to discuss ways we could help the school. SANSE donated boxes upon boxes of books and sports equipment. We spent meaningful time with the kids and did many activities with them, including art and crafts to celebrate the Tet holidays, ball games, and dancing. In the small interviews we had with the ES and MS kids, we learnt all about their struggles, wishes, aspirations and big dreams that they have. From the experience, not only are we now able to set specific goals for our group, members now understood fully what the meaning of our service group meant. It was a very successful and meaningful trip to Ban Lien. – Philippa Goh-Calalang (G09)
We hope to grow as a service group. Some of our goals include: Bringing some Ban Lien students to Hanoi for a visit, supply them with proper water filters, provide proper toiletries and bedding for the school dorms, training the school's English teachers, this is just to name a few. We would greatly appreciate if you could support us at events such as the up-coming spring fair. – SANSE service leaders (Mai An Nguyen G10, An Nguyen G11, Annie Nguyen G12)
Learning Together
When you have access to committed and passionate educators, collective experience, resources, knowledge and skills, when your work in grounded in values of Learning, Community and Responsibility, when you belong to one of two UN schools in the world and when you live in a growing and thriving city like Hanoi, then sharing and learning with colleagues from around the city is the most obvious thing to do. Learning Together, 2019, a conference where Teachers Teach Teachers, was envisioned as a professional learning opportunity for local educators from around Hanoi to come and learn together with colleagues from UNIS Hanoi. This was our maiden attempt at launching a conference for teachers, by teachers.
There were 16 sessions offered through the course of the day with 27 presenters from across the Elementary school. Delegates had the opportunity to self direct their professional learning by choosing the sessions they wanted to attend. The keynote address was presented by Le thanh Forsberg, member of the UNIS Hanoi Board. She opened the conference by talking to visiting teachers about the all important partnership and connection between teachers and how excited UNIS Hanoi is to create a space for teachers to learn together.
The day ended with teachers, both presenters and delegates, leaving inspired and excited at the possibilities ahead. We look forward to including a Middle and High School strand in future iterations of this conference.
A big thank you to our Advancement department, Ms Ngoc who coordinates our ECERP (Early Childhood Education Renovation) programme and to all the Elementary School teachers and teaching assistants who stepped up to present. Our collective belief in who we are as a community and living our core values every day is what makes UNIS Hanoi, #uniquelyunis, everyday.