SDG15
Middle School Sustainability Club Soil & Water Testing at Blue Dragon Farm
Members of our Middle School Sustainability Club had the incredible opportunity to engage in service learning at the Blue Dragon Children's Foundation organic farming project on Banana Island. This is a newly developing entrepreneurial project launched by Blue Dragon using sustainable, chemical-free farming techniques to grow food for their own consumption; and as the land is quite close to their Hanoi centre and accommodation, this will help to reduce their carbon footprint on a couple of different levels.
We were presented with a big challenge the farm was facing: the fruit and vegetable plants were stressed and weak. This is a sign that the soil was lacking nutrients; but without proper testing, it would be difficult to know how to help. The MS Sustainability Club was very excited for this call out to help solve a very real problem that our service partner was facing.
The service learning group asked one of our resident chemists, Ms Lien, and plant & soil expert, Henry Herbert, to join them on site to work with the students and farmers. The student group and experts tested the soil and water in the gardens, water well, and river bank. We set up a "lab" in the farm, and tested our samples for pH, as well as other chemicals including ammonia, copper, nitrates, phosphates, potassium, etc. These tests helped us to better understand what chemicals are present in the land, as well as how to improve the fertility of the soil and health of the plants.
We also were able to explore the farm, and learned about the fruits and vegetables growing there. We learned how to spot plants under stress, and how to look for clues about what might be harming them. We removed insects that were feeding on the plants, and "taste tested" some of the fruit growing (they were delicious).
These test results and observations helped the team make a plan for rehabilitating the soil. One exciting part of this plan is to add weekly deposits of nutritious fertilizer from the UNIS composting center to the garden. Another is to add plants to the gardens that attract predatory insects like ladybugs, so they can protect the plants from being eaten.
We are excited to continue this work in partnership with Blue Dragon and our resident experts!!
Music For Plants
Grade 5 students have been exploring music technology in our ES Makerspace. Within that space are many different kinds of analog and digital sound generators, from bassline and drum beats created with the Moog Drummer From Another Mother (DFAM), to vocal sampling and software synthesizers played from a MIDI sequencer. We have also placed a variety of plants around that space for students to sonically interact with.
Unlike humans, plants don't have ears with which to hear sound. So how are they influenced by music? It's not exactly that they are tapping their roots to the beat of a drum. Rather, sound waves stimulate the plant's cells. When the cells are stimulated by the sound, nutrients are encouraged to move throughout the plant body, promoting new growth and strengthening their immune systems.
A Meaningful Week of SDG Exploration
The Kindergarten children are spending the SDG week delving into 6 different SDGs and thinking about how they can make a difference.
Focusing on SDG 13 - Climate Action, students discussed the arctic polar bears and how the ice is melting, and their homes are becoming ruined, due to global warming. They then thought about what differences they can make at home?
The students then looked at what happens to the animals and plants under the sea when the salt level changes (SDG 14 - Life below Water)? What happens to the pollution and oils that have spilled into the oceans? What can they do to help?
A group of Kindergartners explored SDG 16 - Peace, Justice and Strong Institutions. They made paper doves and wrote messages of peace and kindness on them.
The group also talked about SDG 3 - Good Health and Well-being and the things they need to keep their bodies and minds healthy. After the discussion, students went on and did a Thich Nhat Hanh Pebble Meditation while learning about mindfulness.
Using the lens of deforestation and impact on animal life through loss of habitat, Kindergarten students who looked at SDG 15 - Life on Land, developed empathy for the welfare of Earth's forests and the animals that depend on them for their survival.
Finally, the group learnt about SDG 12 - Responsible Production and Consumption. They discovered what happened with waste around the world, what they could do at home and in the community to minimize waste, what can be recycled at home and how people sort their trash?
Botanical Garden & Sustainability Centre Completed for UNovember!
Recently, we asked for our community's Big Ideas that would help change the world, and two projects were launched which have captured the imagination of our community to become flagship campus projects!
Both were made possible by our community – first with the ideas and then with the financial generosity and expert help from our families, faculty and staff to make them a reality through philanthropic support.
Botanical Garden & Sustainability Centre – A passion to green the campus has been developed by our Taskforce hand in hand with the Sustainability Committee to become a major campus landmark which will also provide a focus for Climate Action.
Solar Campus Project – Thanks to our community we are well on our way to becoming the first solar powered school in Vietnam – the dream shared by our students two years ago!
At the end of last year we had fundraised enough to start implementing both projects with more than $120,000 in gifts to our UNIS Impact Fund from our families, faculty and staff. Thank you!
And this summer we started work on both projects which is now being completed.
Today we update you on the Botanical Garden which will be realised in two phases. The first focuses on our Green Learning Zone and Sustainability Centre where our students and community will be able to get hands-on with gardening, booking space for projects with our community allotment-style raised beds. They will also be able to learn about waste management and circular economy with our recycling and compost centre. We will be announcing some exciting news on this in UNovember.
Below you can see both the 'artists impression' from the design plans and photos from this week on campus.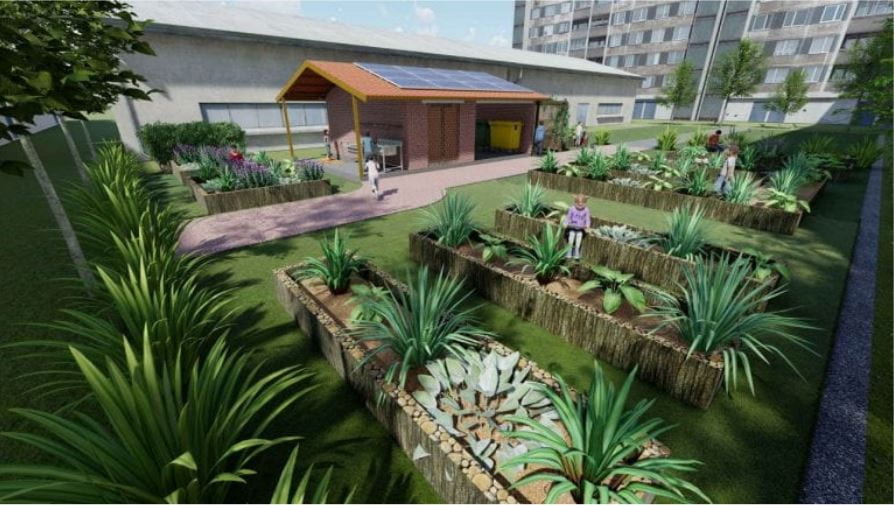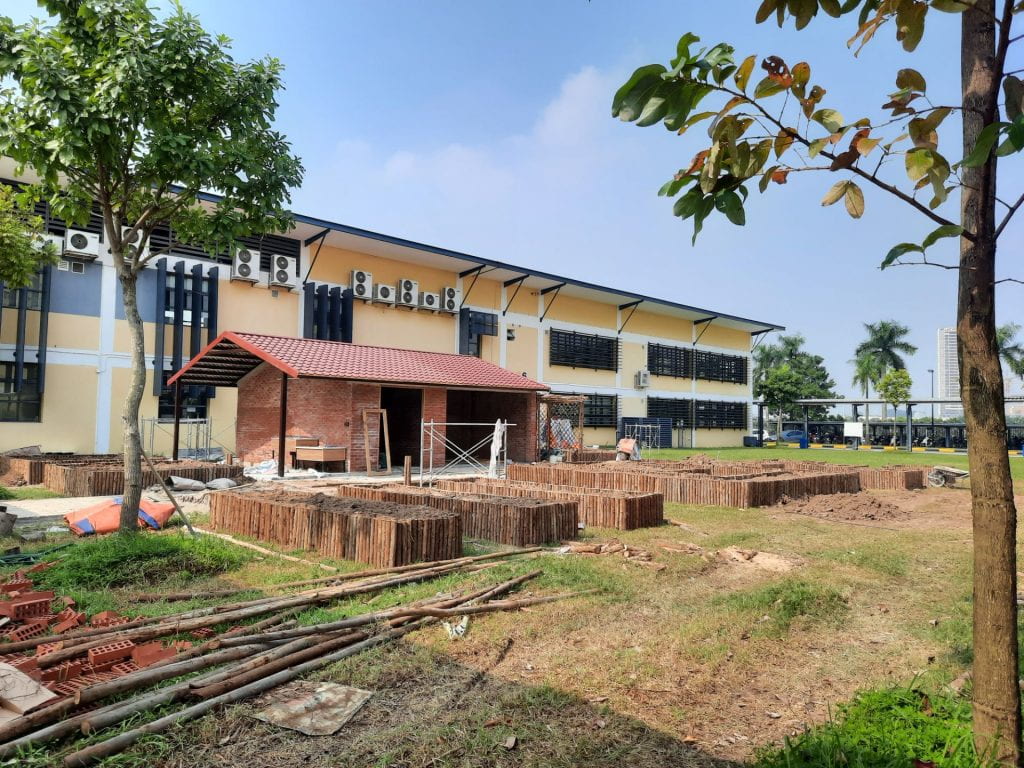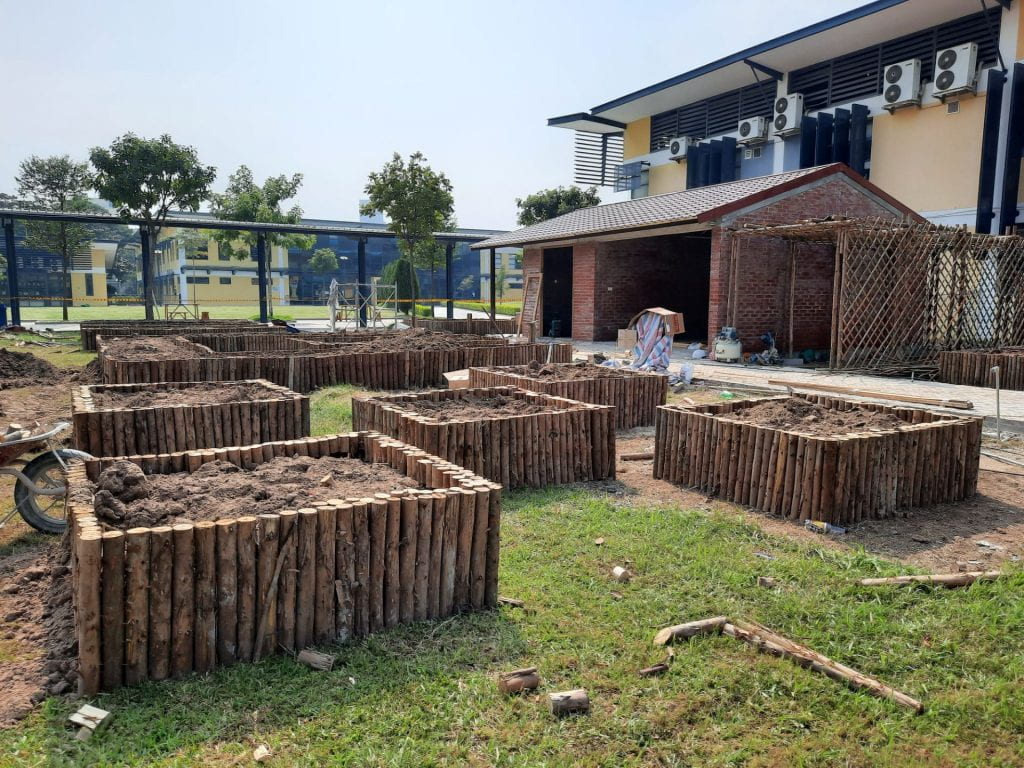 In the second phase of this project, the other half of the space will become our Garden of Philanthropy, an ornamental garden designed for learning, celebrating Vietnam's incredible variety of indigenous plants and creating a beautiful, calm corner of the campus for peaceful reflection, study and socialising. It will also be a place to recognise the incredible generosity of a community that has now donated more than a million dollars to the school's philanthropic projects for service and scholarships.
Discovery and K1 Students Learn About Vietnam's Primates
More than 70 students in Discovery and K1 have been learning all about SDG#14 and SDG#15, specifically endangered animals. To end their week's learning, they welcomed an extra special guest during their Friday morning zoom call. The special guest in question was Ms Phuong Nguyen from Fauna & Flora International (FFI).
FFI works in Viet Nam and around the world to protect endangered animals. In Viet Nam, there's a particular focus on primates. In today's special meeting, Ms Phuong shared with the students information about four specific primates that live in Viet Nam and answered questions such as: "Why are monkeys better climbers than humans?", "Do monkeys sing?", and "What do they eat?"
Discovery Teacher, Marianne Neel said, "We'd like to say a big thank you to Ms Phuong for joining us online today. Her presentation was incredibly engaging for our youngest learners at UNIS, and we know that she has inspired our students to learn more about how to protect these beautiful mammals."
Alongside their learning, Discovery and K1 students were asked to think about an 'action' they could take to help protect the primates.
Reduce Single Use Plastic With Refill O'day
Refill O'day is a student initiative that aims to reduce the amount of plastic waste generated by our community. With the support of the UNIS Impact Fund, the student group provides a service where community members can refill household items, using their home brought reused containers. The students buy the soap in large containers and quantities that they will make sure to get recycled. This is cheaper, saves plastic as well as minimizes pollution from transportation.
Starting from Monday, December 7, 2020 anyone in the UNIS Hanoi community can bring their used containers to refill their hand soap. There are two stations at the front and back gate of the school. The cost of 100ml of Life Buoy is 10,000 VND. All money collected will be used for continuing the refill cycle. Every time you choose to refill, that is one bottle you are saving from polluting our planet.

Life on Land in Math Class
As a final exploration into the Global Context "Globalization and Sustainability", students in Grade 8 mathematics created posters that used different representations of number including scientific notation, percentage, and fraction to address a SDG.
Here's how SDG15 is presented:
The Journey of our Bear Project
Did you know that many bears all around Asia are captured and treated unfairly? Did you know they are kept in tiny cages, and jabbed with a filthy long needle to get the bile out of their stomachs? This needs to stop. We had to help. So that's exactly what we did.
In Grade Five we have to find an I-Act project and take action. We couldn't decide between a few topics, but then we found out about bear farming, and we decided we wanted to learn more. We started by doing some research and we learned what bear farming actually is. During the research time, we found out a lot of horrible facts about how terrible bear capture and farming is. Once we had found out quite a bit about bears and their bile, we looked at a couple of bear rescue centers, and decided we wanted to help the Tam Dao Bear Rescue Centre who were doing a wonderful job of saving bears.
After a lot of research, we decided to sign up for the UNIS Winterfest so we could raise some money. This was a big decision because we had a lot of responsibilities to take care of. We decided on a bake sale and games. We had to prepare cookies and cakes, as well as make posters, stickers and games. Lots of people were interested in our stand! At the end of the day we counted our money and we had raised 5.5 million Dong. We were really happy and excited that we had raised such a large amount of money!
And then there was COVID-19, which meant that we weren't able to visit the bear centre right away. Only after a couple of months, once the lockdown was over, were we able to visit the Tam Dao Bear Rescue Centre and hand over our donation.
Overall we feel like this was an amazing experience because we learned a lot. We also had a super amount of fun, and helped to make the lives of Bears better. But, the bears still need more help. Here's what you can do. To donate money, please visit https://www.animalsasia.org/. You can also visit the Hanoi bear center by booking a tour to learn more and have fun!
Let's all take action and do what we can to help stop bear farming.
Samea & Clara (Grade 5)
To What Extent Should the Public Have Access to Son Doong Cave?
Grade 11 ESS students participated in a role play to explore the question of public access to Son Doong cave. Students modelled different environmental value systems including deep ecologist, soft ecologist, environmental manager, and cornucopian.
Son Doong cave in Quảng Bình province is the largest in the world. The cave contains areas of primary forest with high biodiversity including endemic species of arthropods, blind fish, rare centipedes and white translucent shrimp.
Grade 11 ESS students debated plans to construct a cable car to enable mass tourism to the cave. The activity made links to SGDs #8 and #15 and engaged students in conversations about protecting Vietnamese biodiversity. Students explored the concept of environmental value systems which is foundational to the DP Environmental Systems & Societies course.